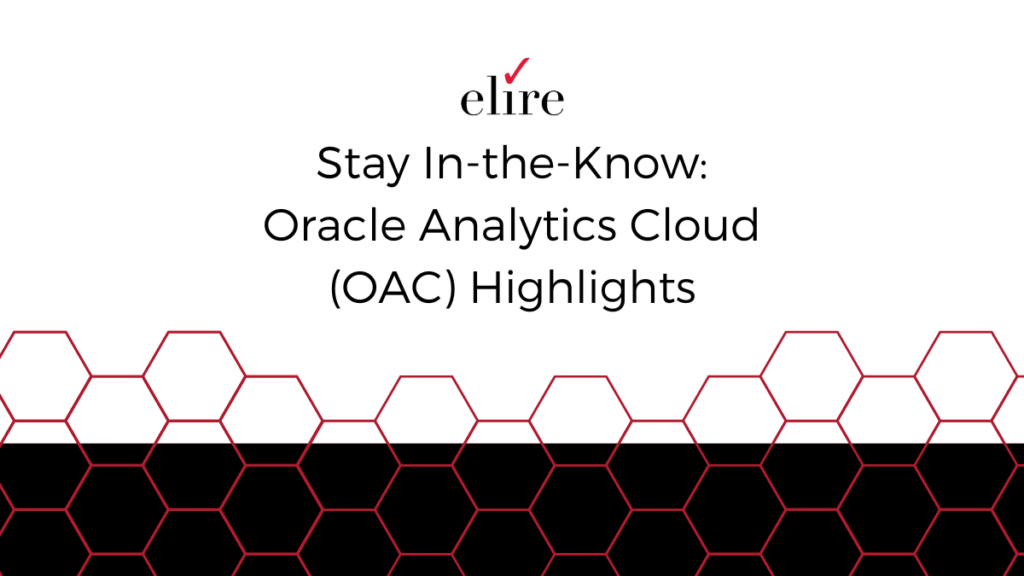 What is Oracle Analytics Cloud? 
Oracle Analytics Cloud (OAC) is a secure Cloud Service that offers countless collaborative features. It provides scalable analytical capabilities for you and your organization. OAC enables users with versatile service management capabilities including simple patching and scaling, quick setup, and automated lifecycle management.
Oracle Cloud Analytics Features 
OAC is built for high performance, its platform enables flexible data storage and provides you with tools to collect and share data insights. Oracle Analytics Cloud supports your entire workflow from beginning to end. Empowering better business decisions across your entire value chain, OAC's six stage process covers data connection, preparation, modeling, exploration, sharing, and consumption.
CONNECT
The platform's six stage process begins with data connectivity working to unify your data sources using a variety of out-of-the-box data connections. Additionally, OAC can use Java Database Connectivity for legacy systems and other sources. Specializing in data aggregation and compilation, this Cloud platform allows you to access all your data wherever you are located. It doesn't end there though, OAC encourages secure data creation, management, and connection with your direct team and across your corporation.
PREPARE
Data preparation begins with the ingestion, segmentation, and purification of your data using varying algorithms. The preparation process then moves onto data flow, where OAC works to aggregate and transform data before scaling it with machine-learning models.
MODEL
Data modeling allows you to develop trusted semantic models to ensure dependable views of business necessary data. You may then utilize semantic models to verify numbers across your corporation. Enterprise users can join tables through direct self-service and in-turn share data models with teammates.
EXPLORE
OAC promotes data visualization and exploration across devices, premises, and in the Cloud. Use your data signals to make complex ideas more understandable, meaningful, and engaging. Subject matter experts can easily share data discovery and collaborate with colleagues to combine machine learning insights and scale data analysis.
SHARE
Collaborate within large corporations or small enterprises, OAC allows for simple data sharing without requiring varying spreadsheets to be consolidated or managed beforehand. This Cloud platform supports quick sharing and analysis of spreadsheet data by many different team members. Curate detailed security measures that enable teammates to access only specific or preapproved reports and raw data.
CONSUME
Access and connect with automated delivery of analytics and monitor business performance at all hours of the day, from anywhere in the world. Unique patterns and interests within mobile apps create personalized recommendations for you to analysis data more in depth. Application developers utilize interfaces to scale, tailor, and facilitate meaningful data experiences within application flow.
Available Oracle Analytics Cloud Editions
Offering analytics capabilities for IT professionals, data engineers, executives, business analysts, data scientists, and business users, Oracle Cloud Analytics has opportunities for everyone within your organization. OAC is available in two editions: Professional Edition and Enterprise Edition. Professional Edition provides a host of different features including:
Machine learning capabilities  
Mobile Applications  
Explain, auto-insights, and natural language features
Self-service analytics and workbooks
Data preparation using data flows
Datasets and direct connection to data sources
Enterprise Edition equips you with all the features from the Professional Edition, but also provides you with additional features including: 
Customer-managed data encryption keys  
Usage Tracking  
Connectivity to private data sources
Email distribution (analysis, dashboards, and pixel-perfect reports)
Advanced Enterprise analysis and dashboards
Enterprise semantic modeling  
Oracle Analytics Publisher for pixel-perfect tools 
Why Should Your Organization Use OAC? 
Oracle Analytics Cloud (OAC) empowers you to tell a story with your data. Do more with your data, implement Oracle Analytics Cloud and create business assets that allow for greater engagement, creativity, and forward-focused business insights today. To learn more about what OAC can do for you, take a look at Oracle's "Getting Started with Oracle Analytics Cloud" blog post.
Looking to keep it simple? Subscribe to Elire's monthly Cloud Newsletter and receive Cloud innovation updates right to your inbox. To stay up to date on all things Oracle Cloud, follow us on LinkedIn and Twitter. If you have any questions about supporting Oracle Cloud Analytics, please reach out to [email protected].