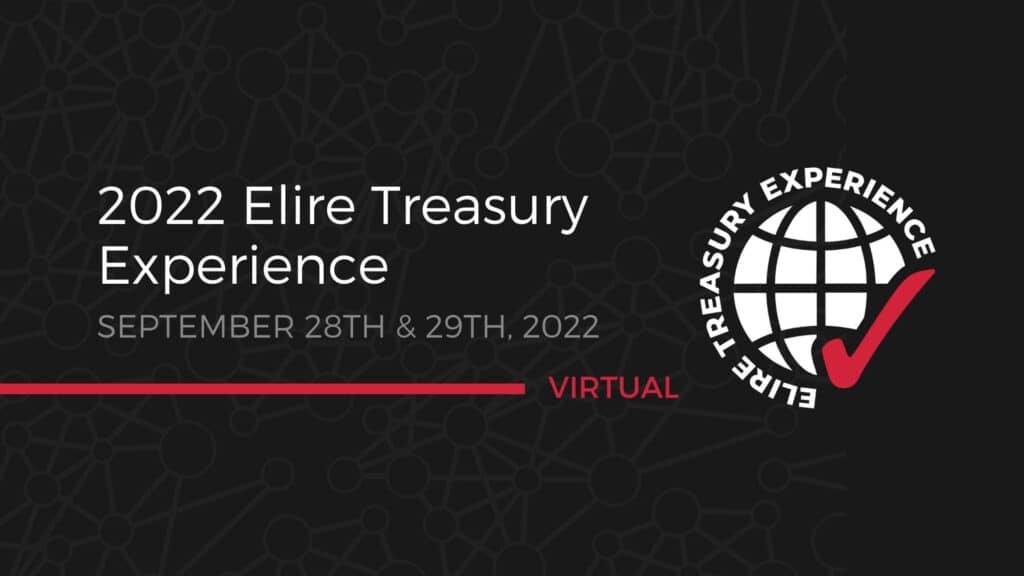 FOR IMMEDIATE RELEASE
The third annual Elire Treasury Experience (ETE) is set to take place on September 28th and 29th, 2022. The two-day event will be held virtually from 10:00 AM CT to 4:00 PM CT both days. The 2022 ETE conference will offer a wide range of educational sessions, product demos, and fireside chats, all tailored to interest the modern Treasury and Finance Professional. Last year, at the 2021 ETE conference, over 220 attendees and 158 unique companies gained educational insight into innovative Treasury Management Systems.
This year, Elire is offering many different sessions across three main topic pillars – Industry Insights, Forecasting, and Payments! Topics include addressing Risk Management/Fraud, the future of instant payments, trends and tools for the Hybrid Treasurer, and more! Select sessions from the conference will be eligible for CTP credit as well.
Attendees and presenters alike are invited to use the hashtag #ETE2022 on LinkedIn and Twitter to post and tweet about the event. A LinkedIn Event Group has been created and is available here. Join the LinkedIn Event Group to receive new conference information, featured sessions, and always be in the know about what's taking place at ETE 2022.
Elire SaaS Treasury Practice Lead, Colin McAlpine, states:
"Elire is thrilled to be back for year three of the Elire Treasury Experience! The sessions for this year were selected to address industry trends and concerns that are top of mind for the new Hybrid-Modern Treasurer. We're excited to be offering these three pillars of content for attendees to create and engage with the Expert Experience and information most relevant to them."
–Colin McAlpine, SaaS Treasury Practice Lead
Once again, the ETE conference will actively incorporate relevant finance and treasury solutions like Kyriba and FIS.
More on Elire's Featured Partners:
Kyriba specializes in cash and risk management, payments, and working capital solutions. Many Kyriba users rely on it for consistent cash visibility, to reduce fraud, and to improve financial insights.
FIS enables users to grow and achieve more as a business. FIS continues to evolve across merchants, banking, and capital markets to best serve users.
Elire proudly partners with Kyriba and FIS to deliver financial success to businesses across the globe and is looking forward to collaborating and co-presenting informational sessions again at ETE 2022.
ETE 2022 is free to attend, but space is limited! Reserve your spot now by registering on the ETE Home Page.
In the meantime, check out these blogs on global treasury technology trends: Cutting-Edge Treasurer Part 1: Treasury Technology Trends and Cutting-Edge Treasurer Part 2: AI, RPA, and Blockchain. We hope to see you at the Elire Treasury Experience 2022!
Don't forget to follow us on LinkedIn and Twitter to stay up to date on everything Treasury Management Experts are doing at Elire.