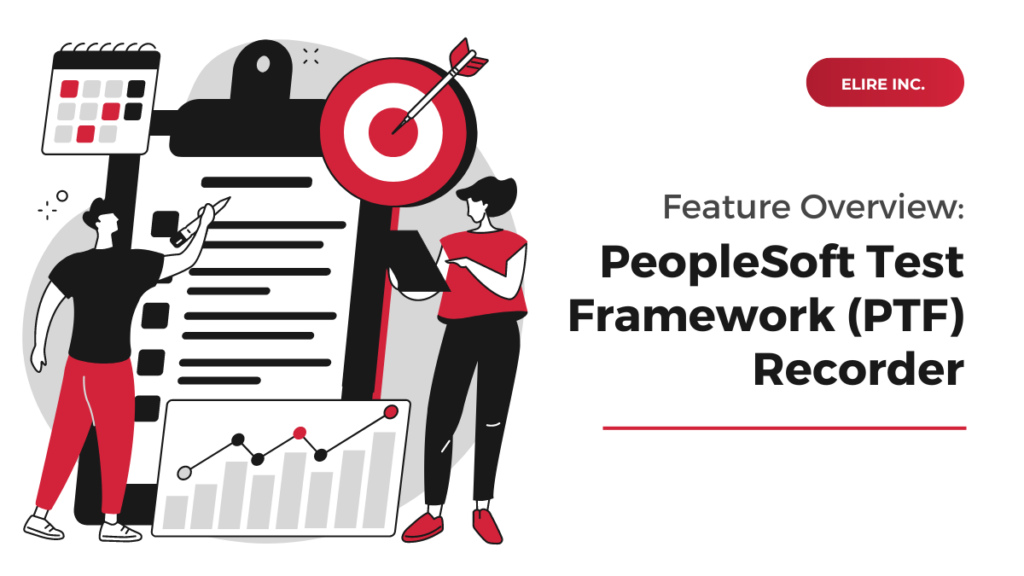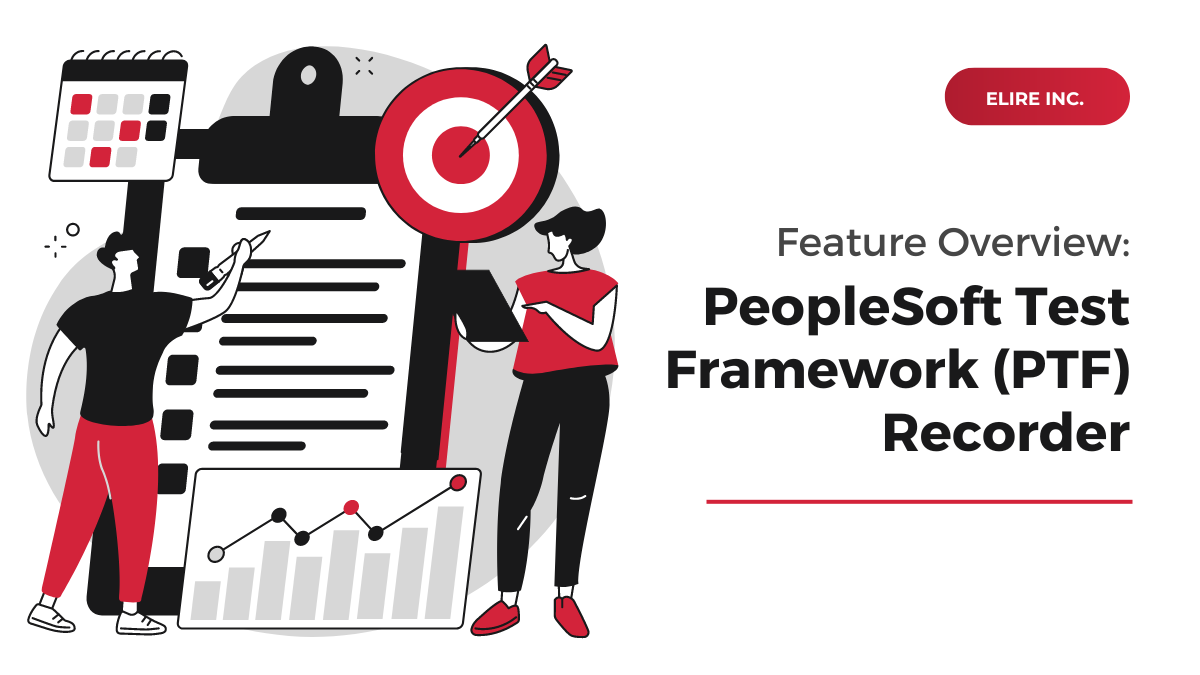 Oracle PeopleSoft Applications have long been trusted for their comprehensive functionality and versatility. To ensure the reliability and integrity of these applications, rigorous testing is essential. Recognizing the importance of efficient testing processes, Oracle's PeopleSoft Test Framework (PTF) serves as a powerful automated tool for rapidly and effectively testing organizations' PeopleSoft applications. For more information on PeopleSoft Test Framework, check out "Updates to Testing PeopleSoft Applications with PTF" on Elire's PeopleSoft Industry Insights page.
What is PeopleSoft Test Framework (PTF) Recorder
Oracle PeopleSoft Test Framework (PTF)'s built in Recorder serves as user friendly method for rapid testing script building. PTF Recorder allows users to create test scripts by recording their interactions with the PeopleSoft application. When using PTF Recorder, a user performs a series of actions within the PeopleSoft application that they want to include in their test script. These actions can include navigating through different pages, entering data, clicking buttons, adding screenshots and validating results. PTF Recorder captures these actions and generates a test script based on these interactions.
New to PTF for Tools 8.59.07+ is a Chrome Recorder and refined Edge Recorder. This much faster recording tool leverages an updated UI and new chromedriver hooks, allowing for even faster recording of scripts. A Chrome plugin that is automatically loaded on runtime helps facilitate additional actions like Validation, Scroll Handling, Log and Get_Property.
Using PTF Recorder and the generated test scripts, users can create automated test scenarios that can be executed repeatedly to ensure the functionality and integrity of PeopleSoft applications. By automating the testing process, organizations can save time and effort while increasing the accuracy and efficiency of their software testing procedures.
How to Best Utilize PTF Recorder
PTF Recorder can be best utilized by following a structured approach that maximizes capabilities and benefits. You can better utilize PTF Recorder by doing the following:
Identify Test Scenarios: Determine the critical functionalities, business processes, or user interactions that require testing within your PeopleSoft application. By successfully prioritizing specific test scenarios, you can ensure the most important areas are focused on and achieve optimal test coverage.
Plan Test Scripts: Before recording, plan your test scripts by defining the sequence of actions and validations needed for each test scenario. Having a clear plan in place helps streamline the recording process and ensures that the generates test scripts accurately reflect your test requirements.
Record Your Interactions: Use the PTF Recorder to capture your actions and interactions within the PeopleSoft application and generate test scripts that replicate your behavior.
Validate and Enhance Scripts: Thoroughly reviewing the generated test scripts ensures they accurately reflect the intended test scenarios and enhance them with additional customizations as needed.
Parameterize Data Inputs: Increase script flexibility and reusability by parameterizing data inputs, enabling dynamic values or data sets to be used during script execution for various testing scenarios.
Organize and Maintain a Library: Establish a well-organized library of test scripts and categorize them based on functional areas or business processes.
Execute and Analyze Scripts: Execute the test scripts as a part of your automated testing process, monitor the execution, and analyze the results to identify any issues or anomalies.
Regularly Update PeopleSoft Scripts: Continuously review and update your test scripts to keep them aligned with changes in your PeopleSoft application. Add new fields, update data points or add completely new scripts if new components are implemented.
By facilitating a very detail oriented and well-maintained PeopleSoft testing process, you can optimize your use of PTF Recorder and ensure accurate and effective testing efforts. For more information on PTF Recorder take a look at Oracle's "PeopleSoft Test Framework Recorder – The Modern Avatar" blog post.
What's Next?
PeopleSoft Test Framework Recorder can streamline your company's system testing process and save you valuable man-hours. By successfully implementing and fully utilizing PTF Recorder your organization can ensure accurate and productive PeopleSoft testing. For more information on PTF Recorder or other PeopleSoft Services subscribe to Elire's Monthly PeopleSoft Newsletter or check out our PeopleSoft Services page. Want to speak with an expert? Contact [email protected] with any questions.
Looking to transition from PeopleSoft and begin your Cloud journey? Don't worry we've got you covered there too. Take a look at Elire's Path to Cloud webpage for next steps in your PeopleSoft to Cloud journey. In the meantime, follow Elire on LinkedIn and Twitter to receive PeopleSoft updates directly to your phone.