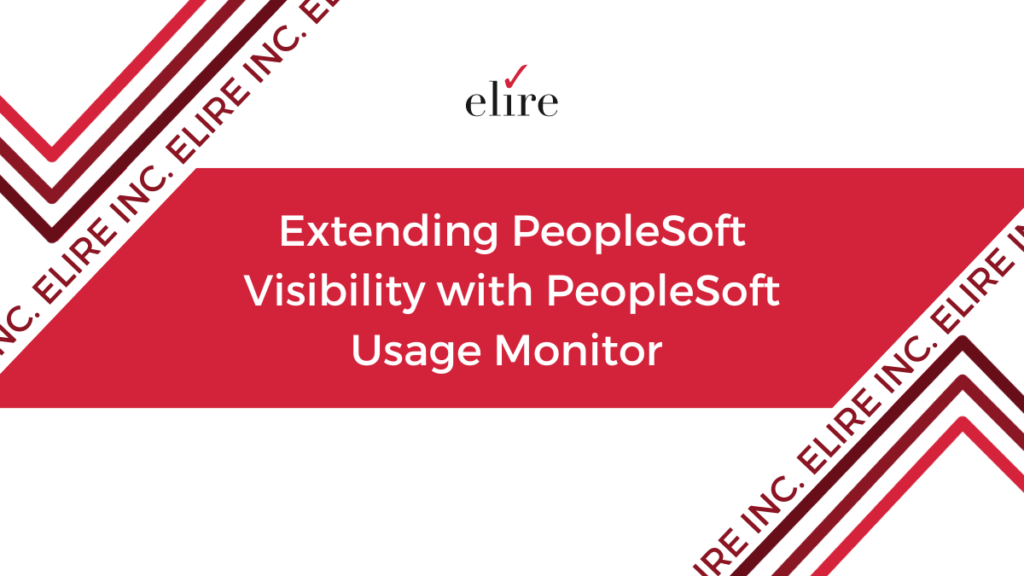 What is PeopleSoft Usage Monitor?
PeopleSoft Usage Monitor (UM) is a PeopleSoft based utility that collects definitions accessed through PeopleSoft Internet Architecture (PIA) based on users and across a specified timespan. Definitions that can be collected include PeopleCode Events like FieldChange, FieldEdit, Records/Fields on SaveEdit, and other Managed Object references like Components, Pages, Fluid Page Composition details. After data collection, these data points can be used in conjunction with PeopleSoft Test Framework (PTF) to analyze test coverage or analyzed as standalone objects aggregated over a length of time. Visibility into what is being used during a testing cycle or live usage during production can give your IT support staff a glimpse never before available.
What changed about Usage Monitor in PeopleSoft 8.60?
Before the new release of Tools 8.60, PSFT environments required a separate monitoring system to be set up to be able to leverage Usage Monitor. The independent monitoring environment required added additional overhead and complex configuration before any UM data could be collected into the tables. Once the information had been collected on the Monitoring System, then users completed programs to produce more tailored data points for better analyzation by other PeopleSoft Tools. The Performance Monitor Framework (PPM) required under 8.59 and prior created challenges for many users due to its many moving components that needed setup and configuration.
Under PeopleSoft 8.60, Oracle Usage Monitor (UM) has no dependence on the previous PPM but rather operates as its own entity. This tool works independently to collect UM data and monitor itself on all PeopleSoft systems.
What are the Benefits of PeopleSoft Usage Monitor under 8.60?
When used in tandem with PeopleSoft Test Framework, UM creates a test coverage report that notifies users to whether their test cases are covered for used objects or not. The Usage Monitor tool can also be used to analyze a Change Package's impact by collecting data from different monitoring system databases and storing them in the PeopleSoft Update Manager (PUM) UM table. The UM table with Elire's tools and indexes in OpenSearch Dashboards can analyze what elements are used during testing phases and if customizations are leveraged in production. A combination of our processes in conjunction with Elire's scope object tracker can guide an upgrade or PUM update with unprecedented accuracy. Ultimately, Oracle UM allows administrators to more precisely understand what definitions in the database are being used in their system, and which can best assist with impact analysis, which is especially crucial when applying updates or changing packages.
What's Next?
For more information on Oracle's PeopleSoft Usage Monitor tool, check out the "PeopleSoft Usage Monitor – Made Easy to Use" blog post on Oracle's website. To learn more about new PeopleSoft upgrades and features, subscribe to Elire's PeopleSoft Newsletter and stay up to date on all things PeopleSoft 8.60. In the meantime, follow us on LinkedIn and Twitter to receive PeopleSoft updates right to your phone. If you have any questions, please reach out to [email protected].