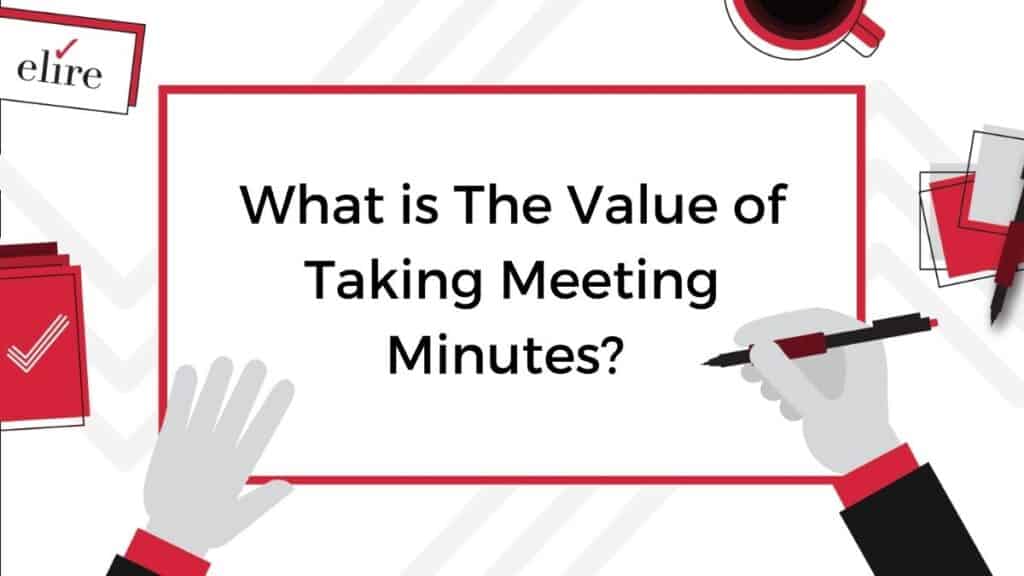 Whether your organization has made the shift to remote, hybrid, or back to in-person work, taking business meeting minutes can be a valuable way to make sure team members are aligned and project management challenges are handled efficiently. Although valuable, many project members do not understand the purpose of business meeting minutes and fail to use the technique, which oftentimes results in unaligned project teams.  
Below, we'll elaborate on the value of taking meeting minutes for effective project management and provide you with a framework to successfully take meeting minutes for any project meeting.
What is the purpose of meeting minutes?
Meeting minutes are a written record of all information presented and discussed during a meeting. They contain a summary of all the main points that meeting attendees discussed and any decisions that were made, which provides an agenda for the team to prepare for the future of their project.
You may be thinking, "Can't the meetings just be recorded?" Although video and audio capabilities can record meetings, taking meeting minutes provides a formal layout for meeting note taking and a more efficient way to access meeting information. 
Why are meeting minutes important?
Meeting minutes are an extremely effective project management tool used by successful project teams today. Taking meeting minutes provides a structural agenda for the recap of the meeting and is valuable for members who were both present and absent during the meeting. They aid in establishing a current state overview, defining core issues and meeting goals, and laying out the overall meeting to align team members.  
Meeting minutes also help push teams to action. Using the meeting minute notes, teams can easily understand core issues and brainstorm potential solutions. Project management challenges can be met with meeting minutes that will help teams come to an agreement on a resolution plan and define the next action steps to resolve issues.
Meeting minutes also aid in components to ensure effective organizational management. They restate roles and responsibilities, delegate the next actionable steps for team members, and reiterate the ownership of each task.
As mentioned above, using meeting minutes to access the information discussed during a meeting is more efficient than doing so via video/audio recordings. Using meeting minutes, you can search by keywords, issues, or topics as opposed to spending time rewatching or re-listening to the meeting recording. In doing so, you'll save time on understanding the overall meeting objective without listening to or watching the entire recording.
Not only do meeting minutes contribute to effective time management techniques, but they also help align team members and bring consensus. Team members may interpret information differently, but consolidated meeting minutes can help align team members and prevent misinterpretation of meeting information that can negatively impact the progress of your project.
Finally, meeting minutes create a framework to effectively plan for your team's future meetings. They provide progress throughout different phases of the meeting and indicate follow-up and action items necessary prior to your team's next meeting.
Who should be responsible for taking meeting minutes?
Any project resource can be responsible for taking meeting notes, but junior resources who have experience with organized meetings structures are likely the best role to take on meeting notes.
Ahead of the meeting, project management should meet with the intended notetaker and define the responsibilities that will be involved in taking meeting minutes. These responsibilities include understanding the meeting topics, listening and writing strategically, properly formatting the minutes, reviewing with project management, and then sending out the meeting minutes to team members by the end of the day. Ensuring that the notetaker is aware of responsibilities will aid in creating the most effective and structured meeting minutes. 
How do you start taking meeting minutes?  
Approaching meeting minutes can be broken down into 5 steps:   
Step 1: Plan  
Define your project's current state overview and communicate with the notetaker to determine the agenda of your meeting 
Based on this agenda, apply a meeting minutes template that indicates meeting key agenda items, discussions, conclusions, and action items 
Send out the agenda to ensure all project team members are on the same page
Step 2: Record
Determine which meeting platform you'll be taking (ie. Zoom, Teams, Skype) 
Begin recording the meeting in writing and audio format  
Step 3: Write
Listen intently and carefully. The notetaker should avoid environments that may distract them from focusing completely on the meeting 
Delegate meeting tasks discussed during the meeting by roles and responsibilities 
Format the minutes and reference the initial agenda format. Make sure the notes are well-structured and that the format is easily comprehensible 
Review and update the meeting minutes. You may need to add extra information that clarifies any information on new issues discussed, which could be prone to misinterpretation. Try to keep the notes as concise and brief as possible 
Step 4: Share
Send the meeting notes to all team members 
Share both the minutes and recording in a shared drive that is accessible to all team members 
Step 5: Follow-Up
Follow up tasks with designated resources  
Define next core issues  
Move team forward  
Taking meeting minutes ultimately ensures that all team members who were present or absent from the meeting are ready to move forward. By acting as a starting point to your team's next meeting, meeting minutes will help your teams stay on track towards the success of your projects and provide alignment that bolsters effective communication and teamwork.  
To learn more about other effective project management techniques that can improve processes and prevent project management challenges, read our article "The Power of a Project Governance Model" that discusses tools like GRPI – Goals, Roles, Processes, and Interpersonal Relationships – for effective project alignment and management. 
Make sure to subscribe to our monthly Project Management newsletter for the latest content and project management learning opportunities, including webinars and updates to our Business Process Excellence blog.