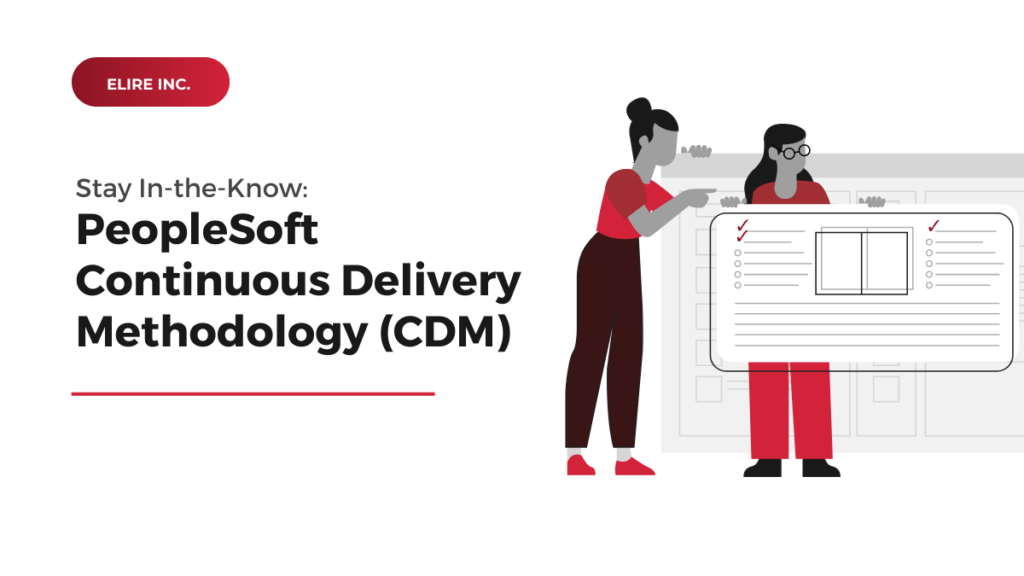 What is PeopleSoft Continuous Delivery Methodology (CDM)?
Test. Develop. Build. Release. Oracle's PeopleSoft Continuous Delivery Methodology (CDM) is a four-step process that delivers consistent PeopleSoft capabilities without the need for large-scale upgrades. This PeopleSoft strategy produces software in shorter cycles, and in turn, releases software faster and more frequently. CDM decreases the need for customizations and saves your corporation time and money.
Working in tandem with PeopleSoft Continuous Delivery, Oracle's Selective Adoption model allows you to better apply Maintenace to your PeopleSoft applications. Selective Adoption effectively manages Continuous Delivery with PeopleSoft Update Manager (PUM) and empowers you to prioritize specific application maintenance and updates. To learn more about Continuous Adoption, check out Oracle's "Continuous Adoption" learning aid for more in-depth feature breakdowns.
Reasons to Adopt Continuous Delivery Methodology (CDM):
There are three main benefits to implementing Oracle's Continuous Delivery Methodology. Firstly, CDM builds a PeopleSoft environment where large-scale upgrades are a thing of the past. Continuous Delivery brings agility to your business systems as it no longer requires system stands-stills for major upgrades. Secondly, new features and maintenance are easily applied with frequent updates. Lastly, CDM gives you greater control over your PeopleSoft Environment as you decide what to apply and when.
Continuous Delivery operates at the intersection of better businesses processes and more efficient information technology. CDM functions as a PeopleSoft tool and arranges for new enhancements to be adopted based on your organization's current state. This real-time and up-to-date methodology prevents update pile up and helps avoid last minute scrambles to implement upgrades before end-of-support dates. Additionally, neglecting these important infrastructure upgrades can lead to serious business risks for your corporation. To learn more about CDM enhancements, check out Elire's "Expert Top 5: PeopleSoft CDM Best Practices" and start building your CDM strategy today.
First Steps for Implementing CDM:
Although CDM is a great way to effectively manage PeopleSoft updates and avoid those pesky major upgrades, CDM strategies must fit the organization to be effective. To better utilize Continuous Delivery, corporations should implement a CDM strategy that works for them and meets their specific needs. By tailoring PeopleSoft Continuous Delivery to your specific needs, your company is better prepared for more frequent updates, new feature adoptions, and implementation of new technology.
When first developing your CDM strategy, take into account your current business processes, technology, and change management. By assessing these common variables, you will be able to examine CDM readiness and prepare to implement your CDM strategy. Ultimately, CDM's end goal is to facilitate continuous improvement with each PUM cycle. Check out the "Webinar: Optimizing PeopleSoft – CDM Best Practices" recording for more information on assessing CDM readiness and starting your Continuous Delivery Journey.
What's Next?
Oracle's PeopleSoft Continuous Delivery Methodology is made to make your life easier. CDM's fast paced application enhancement and frequent update schedule ensures your organization doesn't fall behind. CDM strategies help protect you from risk, save you time and money, and efficiently manage your PeopleSoft environment. To learn more about how Elire's PeopleSoft experts can help you, take a look at Elire's PeopleSoft Services page, or contact [email protected] with questions.
Looking to transition from PeopleSoft and begin your Cloud journey? Don't worry we've got you covered there too, take a look at Elire's Path to Cloud webpage for next steps in your PeopleSoft to Cloud journey. In the meantime, follow Elire on LinkedIn and Twitter to receive PeopleSoft updates directly to your phone.