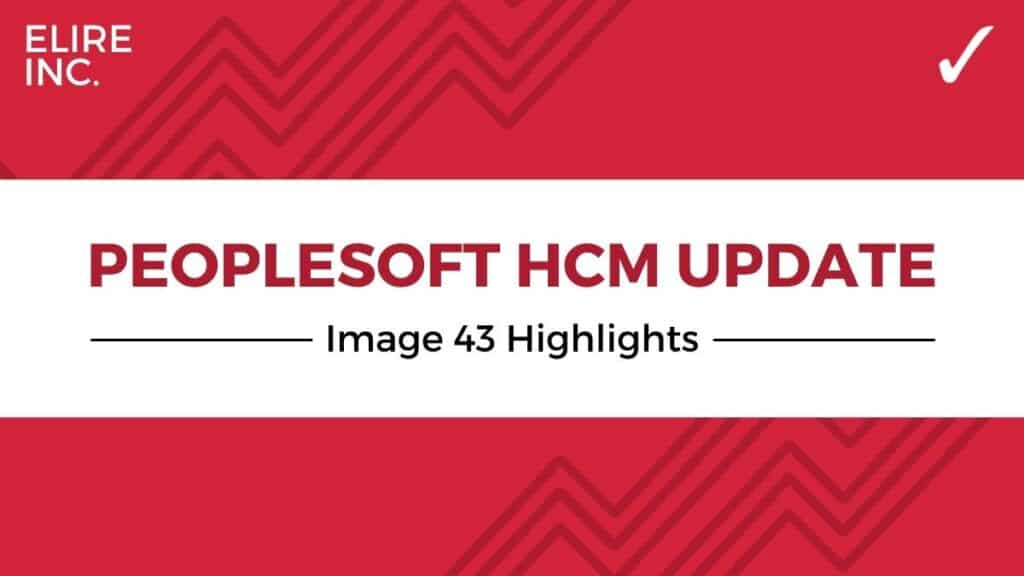 Benefits plan comparison, payroll for North America dashboard updates, payroll features, and more
The Oracle PeopleSoft HCM Update Image 43 is now available with new features to enhance your PeopleSoft processes, including a benefits plan comparison for employees, a Payroll for North America dashboard that provides insightful visualizations, and a quick calculation feature for payroll administrators.
The update also provides absence balance and forecast enhancements, configuration of dependent rules for benefits life plan relationships, the ability to assess performance management from team calendar, and fluid candidate gateway accessibility improvements.
Below, we'll provide a brief overview of the new features and how they provide value to your PeopleSoft HCM processes and PeopleSoft users. For additional details on the HCM Update Image 43 and how it impacts your PeopleSoft applications, watch Oracle's Image Highlights, PeopleSoft HCM Update Image 43 overview video.
Benefits Plans Comparison for Employees
Updates to the fluid benefits application provides the ability to compare benefits plans for employees during benefits enrollment. Now, employees can select the plans they'd like to compare and view the plan details on the Benefits Plan Comparison page, which will show a side-by-side comparison of the selected plans. Users will see sections with varying plan details, associated attributes, and cost details. This information can show which plans cover specific needs at the best prices.
The benefits administrator can define a plan comparison template, which is based on plan sections and attributes definitions, and can create and modify the definitions prior to creating the template, or use the templates guided process to build and preview plan comparison templates on the fly.
Once the benefits administrator creates the template, the user can load the related plan comparison data for benefit plans using the plan comparison data page, which includes a rich text editor to change fonts, colors, and user superscripts to create footnotes.
PeopleSoft Payroll for North America – Payroll Analytics & Trend Insights
Updates to the Payroll for North America include a new dashboard for payroll analytics. The payroll trends analytics dashboard creates the opportunity to view a visual representation of any payroll anomalies, like a spike in the number of off cycles, or a sudden increase in specific earning, deduction, or tax amounts. The payroll trends analytics dashboard can ultimately offer valuable interactive visualizations that show trends from different payroll components, which can be configured based on filters like time frames.
Visualizations can show which earnings and deduction categories have higher cost amounts compared to others. Distribution of generated paycheck by frequency, number of on-cycle and off-cycle calendars, the distribution of employees by employee payroll status, and payment method preferences data can be leveraged to create configured visualizations.
Bar charts can provide you with an overview of any substantial or abnormal increases or changes in earnings, taxes, or deductions. If you notice a category with an unusual amount change and want to evaluate it, you can select the link of the category to access secondary dashboard for more details, which will bring you to the payroll trends analytics breakdown dashboard.
Here, you'll be able to find additional information on the category selected from the primary dashboard, which will show breakdown of category by pay group, the monthly total amount for category, and a more detailed listing of payroll categories.
Quick Calculation
Other updates to Payroll for North America include a quick calculation feature that gives payroll administrators the ability to quickly calculate checks for individual employees and address paycheck related questions from an existing pay line component. The calculated check will be ready in seconds, and you can use paycheck data directly from the quick calculation page and uncover details on paycheck earnings, paycheck taxes, and paycheck deductions. If the quick calculation process returns any errors, you can review the Payroll error messages in detail.
Absence Balance and Forecast Enhancements
Enhancements to absence balance and forecasting allow for the calculation of current balance in Realtime. If a user requests a leave of absence, the system will now calculate the current balance as of today and recalculate it based on number of hours or days that the user is requesting. Now, users can view balances of last finalized calendars or of last processed or calculated calendars. Using balance details, you can find details on opening, accrued, adjusted, and closing balances.
The absence forecasting elements can also be traced, allowing you to debug forecasting inaccuracies by looking at how they are calculated and resolved. Employees are also now notified if future absences are ineligible if the current absence they're submitting is taken.
Dependent Rules for Benefits Life Plan Relationships
HCM Update Image 43 also provides updates to life insurance and accidental death plans in benefits for dependents. Benefits administrators can configure dependent rules for life plans, and various dependent limits are set at dependent rules table. Linking these rules with life plans gives benefits administrators better configurability and flexibility, allowing them to control the dependents that users can enroll, age limitations, and other roles for life plans.
Accessing Performance Management from Team Calendar
With the Image 43 update, managers can now see due dates reminders for employee's evaluation documents on the team calendar. Using links on the details page, managers can open the document to update and access the list of documents for the team.
Fluid Candidate Gateway Accessibility Improvements
Fluid candidate gateway provides 2 accessibility enhancements to improve the accessibility for external candidates.
The new accessibility help link provides a modal window with instructions for keyboard navigation and also provides information on how to set screen reader mode preferences on the careers page and the job search page.
The introduction of instructions for guided processes provides general instructions on how to use the activity guide when applying for a job on the candidate gateway careers page.
To learn more about HCM Image 43 updates and how they can improve your PeopleSoft environment and processes, make sure to subscribe to our monthly PeopleSoft Newsletter. In the meantime, reach out to [email protected] with questions or to set up a time to connect with our team to learn more about PeopleSoft features and functionality you should take advantage of.