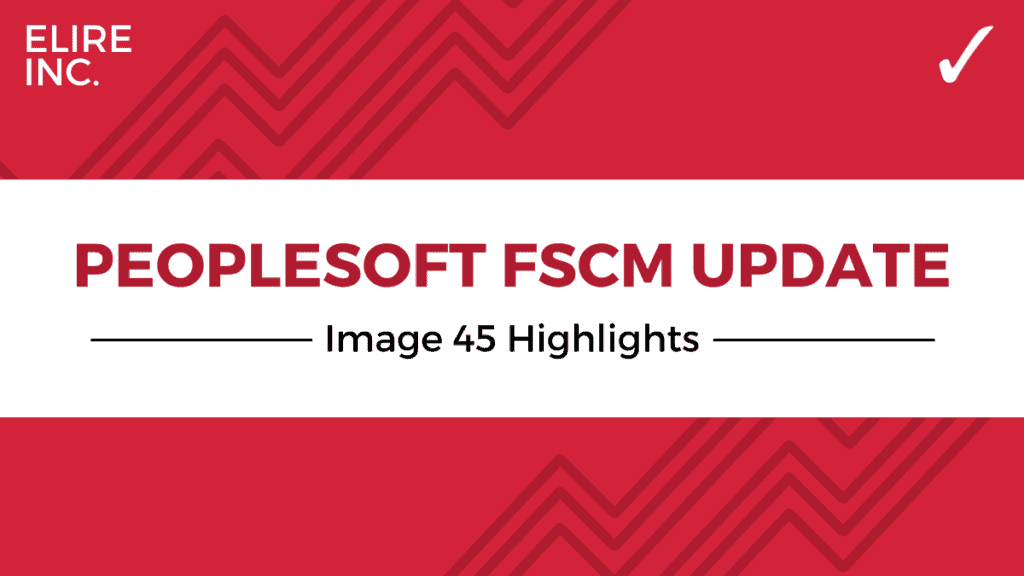 PeopleSoft Financials and Supply Chain Management (FSCM) Image 45 is now available for application, providing new valuable enhancements for your PeopleSoft applications. Below is an overview of the key updates included in the FSCM update, like new features to Receivables Analytics, Expenses, Project Costing, Managing Receipts and Returns in Fluid, and more.
Receivables Analytics
The FSCM Update Image 45 includes the addition of two PeopleSoft Receivables dashboards to the credit to cash operations home page, which can help analyze aging and history activities.
The Collector Dashboard
The Collector Dashboard allows individual collectors to view aging and history activity to customers who are assigned to them. Now, users can leverage filters to narrow views, and all transactions are displayed in the currency defined for business units. Be sure to leverage visualizations that display aging balance summary, aging by customer, highest balance receivables by customer, and average days late by customers.
In the aging detail and history detail tables, users can now use the aging detail link and history detail link to view details or modify information about the item. This information can be exported to a spreadsheet for further evaluation.
The Collections Manager Dashboard
The Collections Manager Dashboard allows collections managers to view aging and history activity and monitor collectors across receivables. Now, you can leverage visualizations displayed by business unit aging by customer, collector effectiveness, DSO by business unit, highest balance receivables by customer, and highest balance receivables by collector.  
Manage Receipts and Returns in Fluid
The FSCM Update Image 45 adds three new tiles to the e-procurement homepage:
Create Receipt
Use requisition lines to receive to select one or more requisition lines. Select the receive selected button to create a receipt and use the create receipt page to perform actions to receipt. This could include adding comments and attachments, rejecting quantities, and providing information for distribution, asset management, and inventory. The Receipt Confirmation page also displays receipt details upon receipt creation and provides navigation to the create a new receipt, edit receipt, and my receipt pages functions.
My Receipt
Use my receipts page to create returns, cancel receipts, and edit receipts.
My Returns
Use the requisition lines to return tab to create returns for a selected line item. The create return page is used to perform varying actions to a return, like overwriting a supplier access, configuring return defaults, canceling return lines, and entering return fees. This page can be used to provide return quantities, select return actions, and enter a return reason. If you need to edit a return entry, be sure to leverage the new features of the My Returns page.
Analysis Type in Journal Approvals
With the FSCM 45 update, the Analysis Type field is added to the pending approvals journal entry and the approval history journal entry pages. Note that the column only appears when project costing is being used.
Expenses Features 
Within Expenses, the FSCM 45 Update provides improvements to personal time hours on the Approval Header and Denied Travel Authorizations Lines.  
Personal Time Hours on Approval Header 
The detail hours section and personal column are added to the Pending Approvals Time Report and the Pending Approvals Time Adjustment pages. Be sure to note that the value in the personal column originates from the option selected on the time entry page. 
Denied Travel Authorizations Lines 
The Pending Approvals Travel Authorizations page now displays denied in the amount column when a line is denied by an approval. Further, when an expense type is prepaid, a notation displays below the expense type.  
Specify Dates for Work Order Tasks
The open tasks by date and open tasks by priority pivot grids now allow you to use a configured time frame that is determined on my preferences page. This allows users to determine a specified time frame each time the grid is accessed.
Exclude Contracts for Statements
Enhancements to Receivables include the addition of the hold statements page, which now enables you to exclude invoices from the statement document based on the corresponding customers associated with a contract.
If you want to leverage this new feature, use the contact's business unit field to enter the business unit associated with the contract. Then, use the contract number field to specify the contract associated with the action. When you select the run button, any invoices associated with the customer of the contract are excluded from the statement document.
Modify Budget Date During Expense Report Close
When closing expense reports, users can now use the reversal date section to determine a date to use when reversing accounting liability entries. To use this feature, select the checkboxes if you want to override the expense budget date, expense accounting date, or both with the date determined as the reversal date. This feature within the FSCM update allows you to control the date if the budget period is closed.
Project Costing Features
The FSCM Image Update 45 enhances Project Costing features in two ways:
The Ability to Automate Project Lists
Within My Projects, you now can leverage a unique list of projects for each user. It can also be used to filter and apply security to the project shown as an exception on project's WorkCenter. PeopleSoft auto-populates a unique list of projects for each user based on project team configuration, a project's tree, grants portal security, and a new all projects option for power users.
Update Project Template Status En Masse
The addition of the project update wizard is now available as a link on the project WorkCenter. Use this wizard if you're looking to update large amounts of project information across the organization in one action. This valuable enhancement saves time and reduces errors when updating project information, and the project update wizard includes project template status, which helps you maintain a current list of project templates.  
Additional Features within FSCM Image 45
Besides the enhancements discussed above, the FSCM Image 45 Update also includes the following improvements for your PeopleSoft applications:
Digital assistants – Four new animated icons that impact the appearance of the digital assistant 
Real time indexing with Batch Switch – payables in the Supplier Contract Management adds real-time indexing (RTI) and RTI switches available for payables  
General Ledger – the ability to display Journal Source on Journal Entry Sheet 
Receivables – the ability to post all business units during the update request process  
Billing – Adds the UBL 3.1 XML message for outbound invoices and allows the ability to specify a from email address when sending the invoices  
Payables and purchasing – Adds the PeopleTools features that allow you to select multiple documents when adding attachments  
Expenses – Updates to CONUS data format enhances CONUS data file to include local incidental field 
Project costing – Adds ability to configure project and activity user filed labels 
To stay up to date on the FSCM Image 45 updates and how they can improve your PeopleSoft environment, subscribe to our PeopleSoft Newsletter and watch the Image Highlights, PeopleSoft FSCM Update Image 45 video that goes into detail on how to use the new features discussed above.