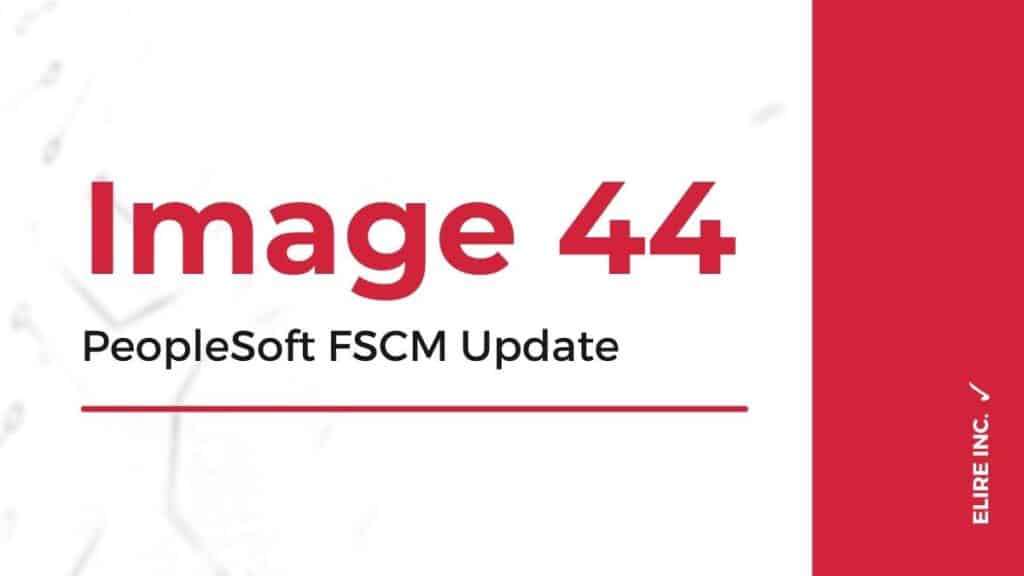 PeopleSoft Financials and Supply Chain Management (FSCM) Image 44 is now available for application, offering valuable new functional enhancements for your PeopleSoft applications. Below is an overview of the key updates included in the FSCM update, like the addition of numerous PeopleSoft dashboards, e-Procurement, questionnaire events, fluid bidder response feature enhancements, compliance to Federal Government invoicing requirements, and more.
PeopleSoft Dashboards – Billing, Inventory, and Project Costing
The FSCM update image 44 includes the addition of PeopleSoft dashboards for Billing Revenue, Inventory Activity, and Project Costing Analytics. These dashboards can help you visualize your data for better decision making and allow you to break down details for deep analytic insight.
Billing Revenue Dashboards
Within Billing Revenue, the new Billing Operations dashboard allows you to analyze the number of invoices processed within a designated time frame. You can use this to manage invoicing errors and manage customer disputes, as well as filter the dashboard by top 10 business units, bill source and time/date updated, customers and billing specialist, and by bill source and business unit. The customer summary grid lists the number of invoices by customer with invoice amount, and the invoice detail grid displays details of all invoices by business unit which allows you to see a full summary of each invoice.
The Billing Analysis dashboard allows you to analyze billing amounts within a designated time frame. This dashboard displays invoice amount by business unit, top 10 customer, bill source, contracts, industry, and salesperson.
Inventory Activity Dashboards
Within Inventory, you now have access to two dashboards that can help you analyze lot control inventory data.
The Item Lots Approaching Expiration Date dashboard allows you to see lots approaching expiration dates for a specific business unit. Then, you can use dashboard visualizations to analyze the value, number of items, location, and category of the lots approaching expiration. The visualizations from the dashboards focus on lots nearing expiration, which allows you to prioritize lots that will soon no longer be viable.
The Non-viable Item dashboard allows you to analyze expired lots. You can use dashboard visualizations to analyze value, category, location, and non-viable items of the expired lots, and a data table displays a summary of all expired items based on filtered criteria.
Project Costing Analytics Dashboards
The update also adds four dashboards for Project Costing Analytics, which can be accessed on the Project Management homepage.
The Project Cost Analytics dashboard compares actual vs. budgeted costs, which can be filtered to a designated reporting period. The dashboard displays project financial visualizations along with actual cost of top 10 projects, managers, project types, source types, vendors, and expense reports. The summarized budgeted and actual cost amounts by period grid provides you with summarized amounts for the time period selected, which can be easily exported to spreadsheets.
The Year-On-Year project analytics dashboard helps you analyze actual costs, billing, revenue, and profit for the current and previous two years. Valuable visualizations allow you to comprehensively view year-over-year actual cost, actual revenue, vendor actual cost, profit loss, billing amount, and billable hours. The summarized amounts by year grid displays summarized project info for a 3-year period.
The Project Billing Analytics dashboard allows you to view project financials by period, top 10 project for billing amount, managers for billing amount, vendors for billing amount, and billable employees, and the Project Revenue dashboard provides valuable details on profit for your projects which can be used to better understand existing and future projects.
Questionnaire Events
Updates to Questionnaire events enable you to provide questionnaires outside of an activity guide through email or online notifications. You can now define the frequency of the questionnaire event as a continuous or ongoing activity and navigate to the stats page to view data related to the questionnaire event, like response status and processing history.
Design Framework Enhancements
Image Update 44 adds Design framework enhancements, which improve the fluid delegation framework. The My Delegated Authorities page now gives users the ability to review and revoke individual delegation requests.
General Ledger Features
Enhancements to PeopleSoft General Ledger features include changes to the financial structure request, which provides users the ability to easily access and update a tree hierarchy structure.
Additional PeopleSoft General Ledger features include automatic journal posting after fluid approval, which streamlines the fluid approval process by automatically posting journals after the last approver indicates their approval.
e-Procurement Features
The addition of e-Procurement features enhances operational efficiency and usability of the fluid e-Procurement cart in checkout flows. You can now use the checkout page to review and perform edits to the requisition and requisition lines, select schedule details to review and modify schedule details for an item, and use the distribution section to access accounting tag information, modify chart fields, and access budget and asset information.
Another additional e-Procurement feature is the Requisition Lifecycle Delivery icon that provides access to the detailed delivery information for a receipt. A requester can now see when an item has been delivered, not just when it's received at the dock. Additional info like signature and feedback are also visible.
Supplier Digital Assistant
Users can now leverage the Supplier Digital Assistant skill as part of Peoplesoft's Intelligent Chat Assistant – PICASO. Use the sourcing skill to inquire about bid opportunities, events that are pending awards, and awarded events.
Fluid Bidder Response
The FSCM Image 44 update adds a strategic sourcing fluid bidder response component to the supplier portal. This component enables bidders and suppliers to respond to requests for bid opportunities using an activity guide that walks you through the complex business process. In addition, you can answer general questions related to the event and gain valuable information to aid the bid process, like the number of required questions, responses entered, and question weighting.
Users can use line bid to complete bid information like bid quantity and unit bid price, and add comments and attachments related to the bid line. You now have comprehensive bid info like total line price, unit start price, and total bid price which will improve the overall bidding process.
Finalize Project Budgets en Masse
The update adds the budget to finalize exceptions to the fluid Project Costing Workcenter, so you can view and finalize multiple project budgets in a single action.
Federal Government Invoicing Requirements
The US Federal Government Department of Treasury implemented the G-invoicing system to manage intragovernmental buy-sell transactions, which is now supported by PeopleSoft. The G-invoicing inquiry pages allow you to navigate from one component to another and inquire about a subset of data analytics pulled from G-invoicing. Users can use the performance transactions page to pull detailed performance data, and purchase receipts can be automatically created from performance data.
Additionally, evaluated receipt settlements can be leveraged when enabled for the purchase order to automatically create PO vouchers. Use the G invoice advanced detail page to update General Ledger accounts and entry events that are used to automatically build prepaid vouchers.
Single Payment Voucher for AR Refunds
Improvements to PeopleSoft receivables enhance the refund process and allow you to create a single payment voucher refund using a one-time supplier. With this update, you no longer need to define permanent supplier IDs for one-time refund payments. The receivables refund process automatically creates a single payment voucher using one time supplier IDs, and also generates the supplier bank account and address bank information.
Delete Third-party Data
New features within the FSCM Image Update 44 update allow you to delete data imported from third-party sources within the generic accounting table. If you import journals from third party sources, you can now delete invalid information for specific journals.
Asset Management Features
Updates to Asset Management features improve the lease payment accounting entry inquiry. Users can refine the payment date field to identify a payment period in which a prior period lease payment belongs. Use the lease number link to access the lease general info page and view payables lease details.
Other enhancements include improvements to the financial terms page to improve operating receivables lease functionality. By using the ad lease payments, you can indicate direct cost payments for operating receivable leases which leads to best-practice reporting capabilities.
Additional Features
Additional features include the global chatbot configuration component to create a global chatbot which is visible across all components within a PeopleSoft portal, and the modification of intrastat reports to address the 2022 report changes for the European Union. Enhancements to Receivables can clear payment staging tables, and updates to billing run billing interface by bill source.
Supplier self-service updates create new locations from supplier self-service and Project Costing adds the ability to add attachments when creating assets. Enhancements to Expenses features allow you to view corporate credit card data from My Wallet, select multiple documents in one attachment upload after an expense report is paid, and generate invoices in Real-Time indexing. Finally, within Asset Management, updates create a transaction loader process by interface type. 
To stay in the loop about FSCM Image 44 updates so you can leverage the full value of your PeopleSoft environment, subscribe to our PeopleSoft Newsletter and watch the Image Highlights, PeopleSoft FSCM Update Image 44 video that details how to get started using the new features.