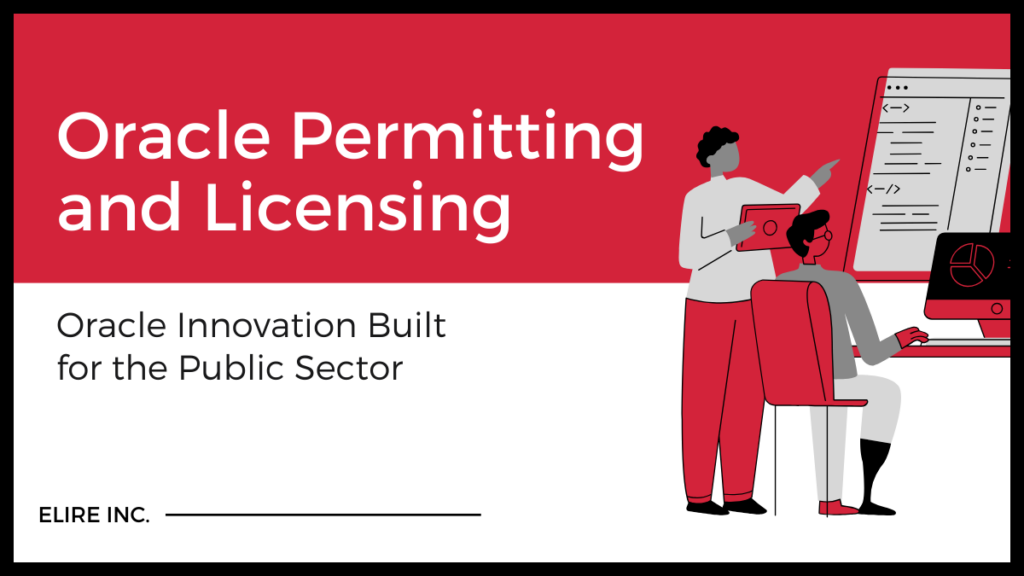 Oracle Permitting and Licensing is a Cloud-based system that allows Organizations to better serve their communities through swift and intuitive permitting and licensing processes. This new and innovative software makes life easier for your entire agency, as it streamlines approvals through comprehensive self-service features and guided experiences.
Oracle Permitting and Licensing Public Sector Innovation
Taking the complexity out of permit and business license applications, Oracle Permitting and Licensing Software has all the tools you need to be successful. By transitioning from a paper-based system to a permitting and licensing platform, your government agency can foster community growth through simpler business license registration, straightforward digital application submission, and timely issue reporting.
This was a labor of love for Oracle, as they built this public sector platform from the ground up. The software development company partnered with many different government agencies to create a system that truly works for the user.
Whether you're a federal agency, city, county, or small town, Oracle Permitting and Licensing has something for you. Hear what experts have to say in this short Oracle Permitting and Licensing overview.
Benefits of Oracle Permitting and Licensing
Looking to better meet the needs of government agencies and special districts, Oracle Permitting and Licensing provides multiple self-service solutions:
Simple Business Registration: Oracle's public sector software makes it easy for business owners to register and manage their business license. Even better, the licensing software is available at any time and supports licensing whenever users want it.  
Community Collaboration: Whether a contractor or resident, users can submit project plans and entitlement applications online and around the clock. Planners can prioritize certain tasks and schedule hearings to streamline approvals.  
Keeping Projects Moving: Oracle's Permitting and Licensing platform ushers residents though the application and permit process. Workflows can be automatically approved, and inspections scheduled, to prevent project bottlenecks.  
Managing Code Cases: Residents can quickly report issues or violations from their desktop or mobile devices. Additional mobile capabilities help code officers be productive and cultivate a safer community.  
One Centralized System: The system connects cross-department services, all in one integrated Cloud Platform, for a more unified user experience.  
There are countless benefits offered by Oracle Permitting and Licensing. So, if you're interested in diving deeper into the public sector platform, explore Oracle's Permitting and Licensing Product Tours.
What's Next?
Optimize your organization's licensing processes and serve your community more effectively with Oracle Permitting and Licensing. Oracle Permitting and Licensing simplifies approval procedures through user-friendly self-service features and guided interactions. This public sector software offers hassle-free permit and licensing capabilities, all at your fingertips.
Harness the power of Oracle's modern Cloud-based Permitting and Licensing software by reaching out to [email protected] today. If Oracle Permitting and Licensing looks like the platform for you, take a look at "Three best practices for government to procure a permitting and licensing system".
The Cloud innovation doesn't stop there, stay up to date on all things Oracle Cloud by subscribing to Elire's Monthly Cloud Newsletter. If you're looking to optimize your Cloud Platform, check out Elire's Path to Cloud Webpage for more information. Make sure to follow Elire on LinkedIn and Twitter for industry insights, at any time.