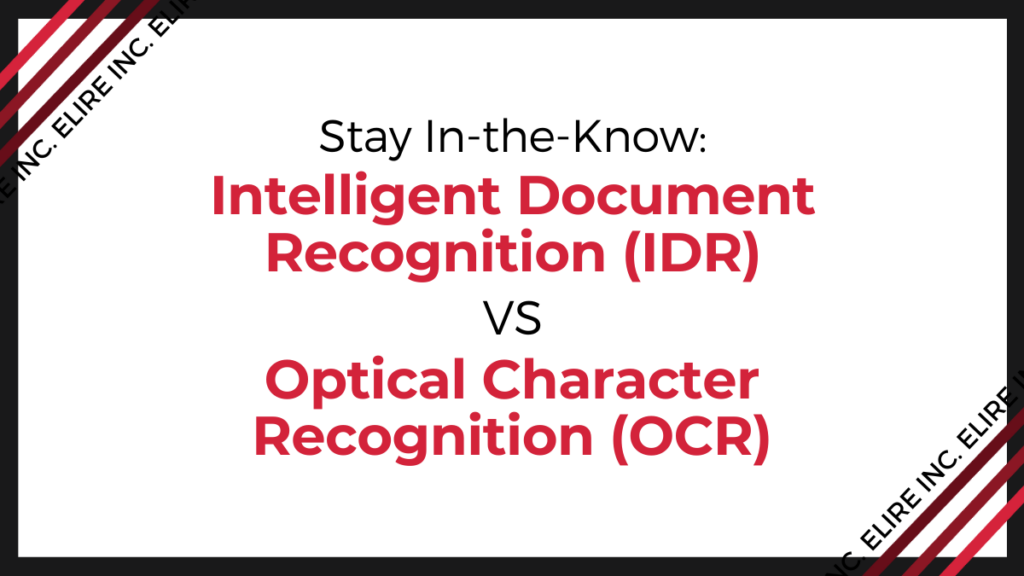 What is Intelligent Document Recognition?
Intelligent Document Recognition (IDR) is an Oracle based Cloud ERP application that allows users to extract invoice information from emailed documents to create new invoices in payables. IDR facilitates a seamless and efficient supplier invoice process for users. This Cloud ERP application requires minimal setup and supports the entire invoice lifecycle, from entry to payment.
IDR empowers corporations to save money and time through automated data entry and machine learning. Intelligent Document Recognition functions as a document classifier and data extractor to build accurate invoices. IDR supports attributes for both Invoice Header and Invoice Line, including invoice type, supplier, invoice amount, order number, and so much more. To learn more about Oracle Cloud's IDR application, check out "Stay In-the-Know: Oracle Intelligent Document Recognition Highlights".
What is Optical Character Recognition?
Oracle Optical Character Recognition (OCR) is a Cloud feature that automatically captures key data points within a scanned document, image-only pdfs, and camera images. OCR software pinpoints words on images and strings them together to create sentences. This technology allows users to access and edit original content, which was previously inaccessible. OCR saves corporations manhours, as it eliminates the need for manual data entry.
One of the more common uses for Optical Character Recognition is turning hard copy documents into pdf documents that can be formatted, edited, and searched. OCR uses pattern recognition to identify different fonts and formats within a document. Additionally, OCR examines the structure of the document and divides it into elements of text, tables, images or other defining features. This filter-like system works in tandem with pattern processing, all within OCR, to create recognizable text for the user.
Optical Character Recognition removes the complexity manual data entry and allows for simple text searches, storage, and editing. OCR empowers businesses and individuals to digitally store hard copy files. This cloud system allows users to aggregate documents within one computer system for easier access. Learn more about how Oracle uses OCR technology within their systems by reading "OCI Vision: Capture Document Formats, Image Text, and More" today.
Notable Differences Between IDR and OCR
Oracle Intelligent Document Recognition and Optical Character Recognition have many common features including centralizing and securing data, ensuring up-to-date information, and user data extraction capabilities. However, there are quite a few differences between IDR and OCR, so here's a break-down: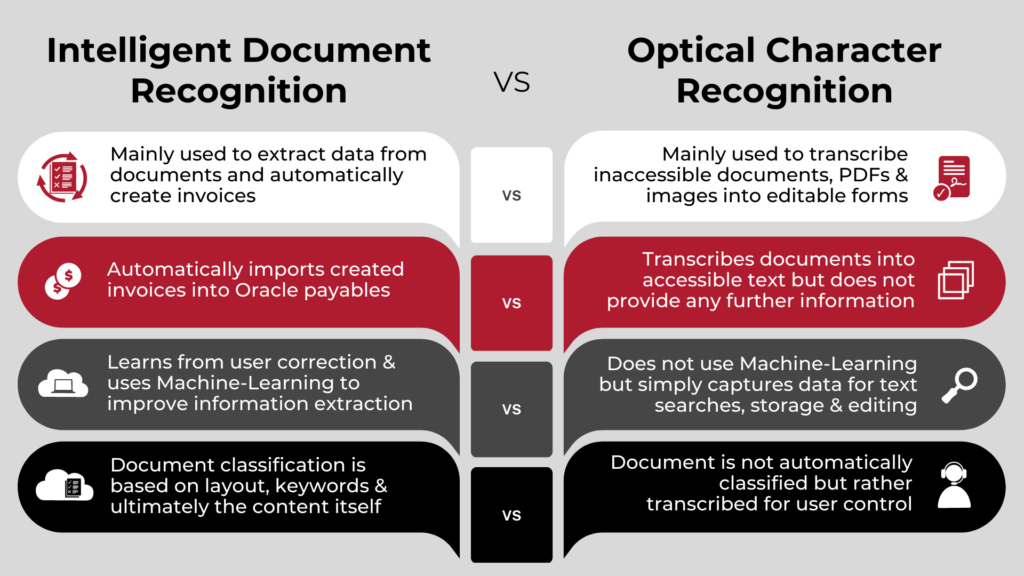 Both IDR and OCR have costs and benefits, but if you are looking for a more comprehensive data extraction software, Intelligent Document Recognition is the way to go. IDR's machine learning functions and automatic invoice processing will save you countless manhours and streamline your data extraction process. On the flip side, OCR is a wonderful choice if you are looking for a simple and manageable software to transcribe scanned documents; however, Optical Character Recognition may not meet all your business needs if you are looking to save large amounts of manhours within the data search, storage, and sending process.
What's Next?
To learn more about Oracle's Intelligent Document Recognition and Optical Character Recognition software, check out Oracle's "AI Vision Features". Curious what Elire can do to help streamline your data extraction process, view our Cloud Services homepage or reach out to [email protected] with questions.
Just starting your Cloud journey? Don't worry we've got you covered there too, take a look at Elire's Path to Cloud webpage for next steps in your PeopleSoft to Cloud journey. In the meantime, follow Elire on LinkedIn and Twitter to receive Oracle Cloud updates directly to your phone.