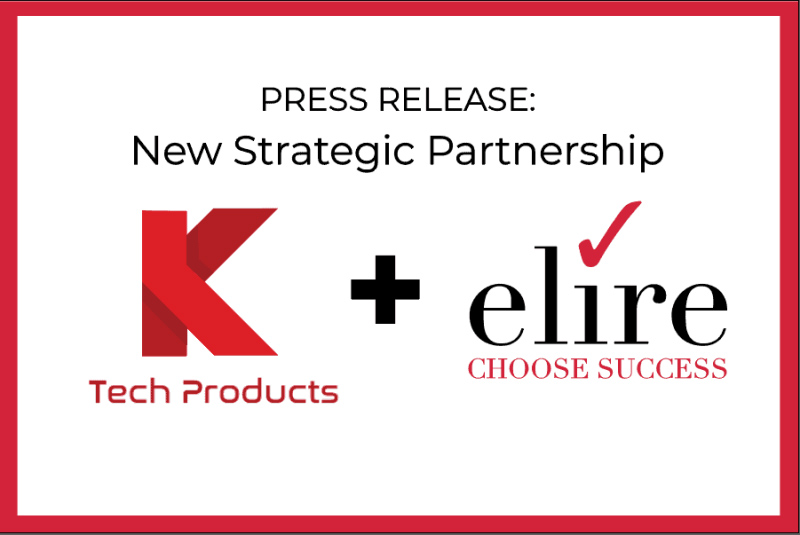 Process Automation Potential
Established ERP Implementation Partner, Elire Inc., is excited to announce a new strategic partnership with KTech Products.
Over Elire's 15 year history, the focus has always been on delivering success in the areas of ERP Implementations, Upgrades, and Optimizations as well as providing true Trusted Advisorship for Strategic Roadmapping, Assessments, and Managerial Consulting Services. This new partnership with KTech Products offers additional services to continue to provide innovative solutions for our Client's needs, leveraging KTech's diverse array of technology solutions for process automation and digital transformation.
Richard Merrill, Partner and Head of Service Delivery for Elire Inc., says "KTech has a robust and flexible set of automation solutions designed to achieve process automation with a positive return on investment. Their solutions work with all major ERP platforms and provide accelerated implementation timelines."
Jai Chitkara, CEO at KTech Products, said, "I am very excited to announce the partnership between KTech and Elire Inc. who are leaders in digital technologies and management consulting services respectively. Both companies have joined hands to create a robust customer success model, and cost-effective digital transformation implementations, i.e. customer benefitting from the best of both of the worlds.
Jai also added, "KTech Products will benefit by utilizing Elire's Project Management, Business, Sales, and Marketing services and it will help KTech improve its Rapid Deployment methodologies model and enhance its suite of digital technology products."
About KTech Products LLC:
Jai Chitkara is a visionary leader who comes with over 25 years of experience in Portfolio Management, Customer Success, and Innovation across technologies and industries. He has a proven track record of leading customers from the commercial, public sector, and higher education, on their digital transformation journey based on a comprehensive roadmap and rapid implementations. Under Jai's leadership, KTech has successfully created digital technology practices & products to deliver customer-focused business transformational solutions over KTech's digital cloud.
KTech Products is a Kastech Company with headquarters in Dallas, TX. KTech's mission is to transform their customers' business digitally through innovation and automation. KTech Products specializes in RPA implementations, OCR, AI, ML, intelligent and integrated chatbot, and several value-added innovative products and services. With its Rapid Implementation methodologies, digital transformation programs, KTech has created over 15 plug-n-play products for Finance, HR, and Student systems such as AP Invoice Automation, AR Billing Automation, Expense Auditing System, Transcript OCR to SIS, On-Boarding & Off-Boarding, On-Premise to Cloud, Paper to Digitization, & Test Automation Suite.
For more details, please contact [email protected]
About Elire Inc.
Richard Merrill is the Head of Service Delivery for Elire and has almost 25 years of experience in both consulting and industry. He has a proven record of developing strategic roadmaps, leading large-scale business transformations, managing operational teams, and managing programs and projects.
Elire Inc. is an Oracle Consulting Partner with a PeopleSoft and Oracle Cloud Product focus celebrating over fifteen years of experience in successfully completing projects for our customers. Our mission: We deliver success by efficiently implementing, integrating, and upgrading your software investments in the following practices: Cloud Services, PeopleSoft Services, Treasury Management Services, Managed Services, E-Business Suite Services, and Strategic Advisory Services.
Over 200 clients in the Public Sector and the Fortune 500 Financial Services, Utilities, Retail, Manufacturing, Healthcare, Education, and Professional Services Sectors have benefited from Elire's hands-on guidance. See how your company can choose success with Elire.